Image: Zimbio.com
A few years ago my husband dressed up on Halloween. He dressed like a hockey player…well, at a quick glance. If you looked closer at him, you would see that he was wearing a tutu, had makeup on resembling a black eye with a little blood dripping from his lip. On his chest was sewn a Princess Patch..and on his back was the name Avery. I guess you could say there is no love lost here…
The NY Rangers are currently on a 5 game losing streak. I know, Thrasher fans, most losing streaks seem to stop right here on our ice these days, don't they? Don't give up home on our boys just yet. We have picked up the pace in the last 3 games, going from 2 goals, to three goals, to finally four (that last one was truly painful), edging so close to a win. FINALLY after 13 games. Dustin Byfuglien got his goal. In the last 3 games there has been a different player scoring almost every goal, but most importantly, we were scoring goals. There has been a few key ingredients missing the last few weeks (besides consecutive wins) and tonight, well tonight Blueland, tonight we get to see something we have all missed terribly.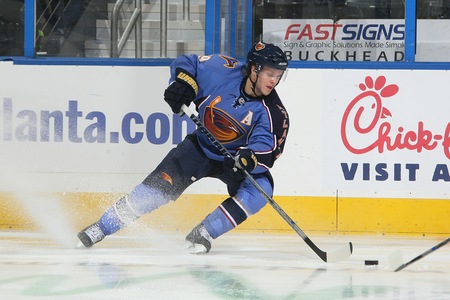 Tonight we get our #39 back. For the first time, Tobias Enstrom had to sit out for almost 3 full weeks to allow his finger to mend (though we all know the boy hardly 'sat' at all). And finally, after 4 healthy scratches, it looks like we will have the man who likes to wink at my little girl and pass out pucks to the kids before the game, Eric Boulton. Been missing that force out there.
Could tonight be the night that we finally get to taste victory again? Let's hope so! I can't take this strike too long!
Check out NY Rangers – Blue Line Station for the latest news on the visiting opponents. Most definitely to check out the New Yorker vision of the south…
Tags: Atlanta Thrashers Dustin Byfuglien Eric Boutlon New York Rangers Strike Tobias Enstrom