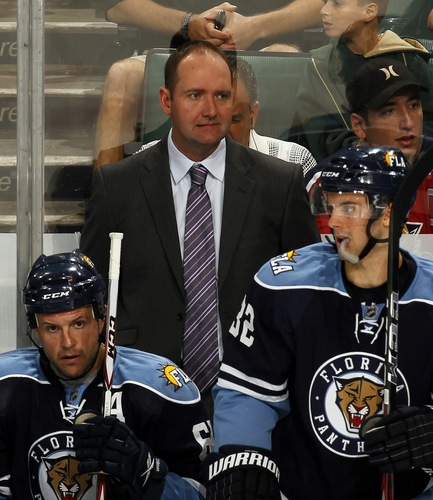 image: bleacherreport.com
With the potential to be a big day for Florida Panther Coach Peter Deboer, looking for his 100th NHL win, one of my two most favorite Atlanta Thrashers fans, celebrating his 6th birthday, is looking to get an Atlanta Thrasher win. I don't mean to sound too biased when I say I would prefer the latter of the two. I mean, birthdays only come once a year…the Panthers can get their win Sunday against the Capitals.
It is scary reading up on the pre-game news and seeing the universal verb, "to torment, trouble, plague"…"I am worried about the very next game." (Coach Ramsay) Bonding over "worry" doesn't sit to easy with me when it comes to my baby's birthday wishes, I can tell you this much for sure.
Not yet certain who will get the call in goal, Ondrej Pavelec skated in Friday's practice feeling no pain and Peter Mannino was re-assigned back to Chicago. Burmistrov and Slater both skated during Friday's practice, though Bermistrov would be the more realistic potential to be on the ice if either player has a start as Slater has a lot of conditioning to do. After the recent trading frenzy, Niclas Bergfors (celebrating his birthday on Monday) will be back in Atlanta, only this time as a Panther.
While both teams are struggling something fierce, The Atlanta Thrashers have been attempting to make all the right connections to score a WIN. Saturday night, they need to actually put some effort into attacking the goal. Treat the goal as though it is the enemy, attack, devour and destroy it. OWN it. We have not won since the trade deadline and it is safe to say that everyone in Blueland needs this win for mentality's sake.
Barry's comment here sums it up perfectly. Play smarter.
Check out the Florida Panther's – Rat Trick for their views on the final match up for the season between the Florida Panthers and the Atlanta Thrashers
Tags: Alexander Burmistrov Atlanta Thrashers Florida Panthers Jim Slater Niclas Bergfors Ondrej Pavelec Peter Mannino